Picking the right saw is important but choosing the right blade is also equally important. Good saw with an unsuitable blade isn't going to give you the result you expect. There are saw blades suitable for different materials. And in this guide, we will be talking about plywood saw blades.
There are dozens of plywood saw blades of different qualities. And indeed you have to reach out to the best one so that you can have a satisfactory result. Choosing one from a shelf of couple dozen is really tough unless you are experienced enough. A lot of beginners choke in this phrase, they get confused and end up with an overhype model when there were far better options.
However, if you don't have experience of saw blades and don't want to waste your hard-earned money, we urge you to go through this guide. We have come up with 7 best circular saw blade for plywood. They have been around for long and a lot of users are using these, so far everyone seems to be happy.
We have thoroughly reviewed each of these circular saw blades including their pros and cons. Go through the reviews, by the end, you should be able to decide on your own.
Our 3 Favorite Circular Saw Blade for Plywood
Top 7 Best Circular Saw Blade for Plywood Reviewed
1. DEWALT 10-Inch Saw Blade
The Dewalt 10-inch saw blade, it is a combo pack actually, it comes with two blades. And it is one of the top-rated saw blades of the market right now. Plywood, hardwood, chipboard, or softwood, you can effortlessly cut through all these with this very saw blade.
With this very blade, you can expect to have faster, accurate, and smooth cuts every time. As we mentioned, it comes with two blades, both are thin kerf blades. One is a crosscutting blade that has 60 teeth, and another is a general-purpose blade that has 30 teeth. If you are looking for plywood cutting circular saw blade, a general-purpose blade will be suitable. You will get accuracy and faster cutting experience.
If you are worried about blade breakage, don't worry. These blades have a wedge on shoulder design, and that increases the pressure on the blade tip steel in order to prevent breakage. Moreover, this blade features a computer plate that is so balanced and increases blade stability. As a result, you get accurate and smooth cutting.
And lastly, the manufacturer has used tough tungsten carbide material in the construction that keeps the blade sharp for long period, regardless of how often you use it.
The Pros
Offers good stability and accuracy.
Two blades increase work flexibility.
Highly reliable saw blade.
The blade remains sharp for longer periods.
Durable blade.
The Con
The general purpose blade takes time to cut through.
2. Freud D12100X 100 Tooth Diablo Saw Blade
Anyone who is looking for a smooth cutting circular saw blade, go with this Freud D12100X 100 Tooth Diablo Ultra Fine Circular Saw Blade blindly. It features 100 teeth and cuts through all wood materials effortlessly. And the finish it delivers looks like pre-sanded. Aluminum, hardwood, or plywood, you can cut through all of these materials very easily with good accuracy.
Apart from that, this very saw blade has the capability to cut through steel and metal material as well. But wouldn't be as smooth as wood and aluminum.
It is a thin kerf carbide blade and best for 12-inch saws. Doesn't matter how often you use this blade, the sharpness will last very long. This blade comes with a laser-cut stabilizer vent that reduces the vibration to make the blade stable and it reduces the noise as well. All these together gives the user an extremely satisfying cutting experience.
The manufacturer has used high-density carbide material in the construction of this very blade and that makes the blade extremely durable and long-lasting. With this sheer face grind design saw blade, you will able to make an effortlessly smooth and precise cut. Just make sure you don't rush.
The Pros
Highly durable and Long lasting saw blade.
Doesn't make much noise.
Extremely sharp blade.
Sharpness lasts very long.
Delivers smooth, accurate, easy cuts.
The Con
Few users found it a little overpriced.
3. Freud D0760X Diablo Ultra Finish Saw Blade
If you find previously reviewed Freud D12100X 100 little expensive, then have a look at this, the Freud D0760X Diablo. It is a thin 0.59-inch kerf blade that features 60 teeth that delivers you laser smooth cut. The blade is extremely easy to feed which gives you better control on the blade. Good accuracy and durability, you can expect to have both from this very saw blade.
Like the previous one, this one also features laser-cut stabilizer vent which reduces the vibration and the noise as well. And that means an extremely satisfying cutting experience. On top of that, this blade is protected by shock-resistant TiCo high-density carbide formula. What it does is, protects the blade from wear and tear ensuring it serves you for a very long period.
Not only the carbide formula, but this blade also features Perma shield non-stick coating which makes the blade corrosion and heat-resistant. It also increases the lifespan of the blade. The low price of this blade doesn't show at all on its performance.
If you are looking for plywood, hardwood, aluminum cutting blade, go with this one. For the price, it would be an incredible catch for sure. Plus, the way it cuts wood, it looks like sanded already. Overall, you will have a satisfying time with this blade.
The Pros
Highly affordable saw blade.
Offers good control on the blade.
Highly durable and long-lasting blade.
Super easy to feed.
Remains sharp for long periods.
Gives smooth and precise cutting.
Makes very little noise and vibration.
The Con
Sometimes it splinters the top side.
4. PORTER-CABLE 4-1/2-Inch Circular Saw Blade
Who doesn't know porter cable? Anyone who has spent any length of time in the power tool market must have heard the name. This very brand is serving the market with top-notch products for very long and that is why they are trustworthy. It has a separate fan base who trusts the brand blindly. And why won't they? They don't launch anything without ensuring the quality and if anything goes wrong, their top-notch customer service takes care of everything.
Like other products of Porter-Cable, this PORTER-CABLE 4-1/2-Inch Circular Saw Blade isn't different. The best part of this very blade is its price which is extremely low. But the low price doesn't reflect on its performance. It is a highly suitable blade for plywood, and the sharpness is good as well. If your saw machine is fast enough, you won't face splinter cutting plywood with this blade.
If we talk about durability, it obviously isn't as durable as high-end blades from Porter-cable but serves for a decent amount of time.
The Pros
Sharp circular saw blade.
Highly affordable price.
Very easy to use.
Delivers smooth finish.
The Con
Not as durable as other top-rated saw blades.
5. DEWALT DWA171460 7 Circular Saw Blade
Dewalt is a top-notch brand, it is a well-reputed brand that never fails to impress its audience. But not the brand's reputation what made us bring the DEWALT DWA171460 7 Circular Saw Blade in this list. It is its capability to perform exceptionally.
It is heavily constructed with high-density tungsten carbide which makes it extremely durable a long-lasting. Not only that, this blade is wear-resistant as well which ensures it lasts for a long time regardless of how often you use it. The tough coating prevents gumming and friction, this also adds to the lifespan of the blade.
This kerf design blade gives a smooth and effortless cut. And it can be used with both corded and cordless saws. The manufacturer has kept the price low as well. For plywood cutting, this would be a great circular saw blade.
The Pros
Highly durable construction.
Features 60 blades.
Wear-resistant and coated blade.
The blade is sharp.
It comes at an affordable price.
The Con
Blade gets dull after a while.
6. DEWALT DW9153 Circular Saw Blade
Here comes last saw blade from mighty DeWalt, the DeWalt DW9153. It is another ultra-thin kerf blade that is capable of delivering effortless smooth cut through materials. Features 90 teeth and is best for cutting through plywood, the effortless cut will surely amaze you.
This blade features anti-stick rim which reduces friction and gumming. Friction damages the blade but if there is an option to reduce that, the blade will last way too long. The blade is extremely sharp and cuts pretty faster. It has a 10mm arbor and the hook angle is 3-degree.
And best of all, the price of this very blade is extremely low, anyone can afford it. Would be the best pick for plywood cutting.
The Pros
Durable and long-lasting blade.
Remains sharp for long.
Effortless and smooth cutting.
Extremely low priced blade.
The Con
Chips when cutting vinyl siding.
7. Diablo D0641X Finishing Saw Blade
Last but not least, we have the Diablo D0641X Finishing Saw Blade. If you are looking for a suitable blade for crosscutting or rip cutting with a portable saw, this blade would be an excellent choice for sure. The blade comes with an incredible edge that gives greater sharpness and cutting speed.
This blade is also a great choice for plywood cutting, decking, fencing, etc. The max blade rpm is 10,000, the diameter is 6 ½, and the arbor size is 5/8. It features 40 teeth that give smooth and clean cuts. The blade has an anti-stick rim that reduces gumming and friction.
It was constructed with Tico Hi-density carbide material for optimum durability, and it can non-stick coating as well. All together makes this very blade extremely durable and long-lasting. Moreover, this blade features tri-metal shock resistant brazing which enables it to withstand high impacts.
The blade makes very less noise and less vibration, so you can cut accurately without any irritation. So overall, this is a top of the line saw blade that fits in different jobs pretty nicely.
The Pros
Extremely durable blade.
Delivers smooth cuts.
Makes less noise and vibration.
Very sharp.
Can withstand heavy impacts.
The Con
How to Choose the Best Circular Saw Blade for Plywood?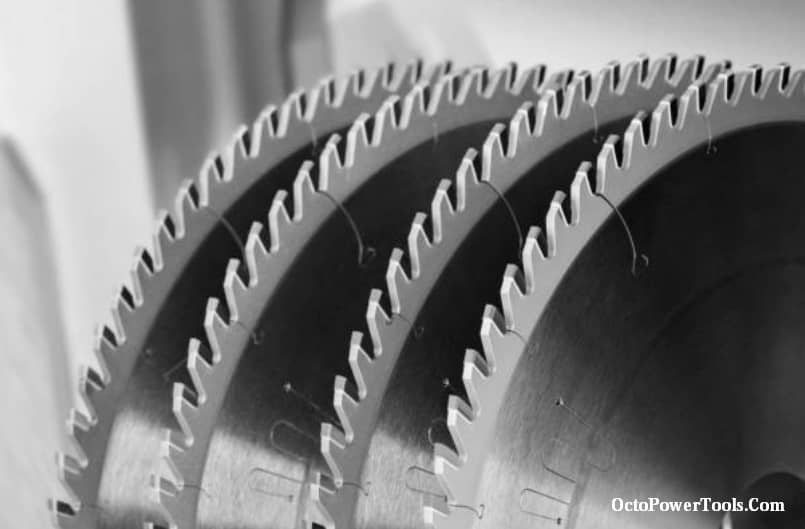 If you want to be successful in choosing the saw blade, you have to keep a few factors in mind. And that will help you to reach out to the ideal one. There are different types of blades suitable for different needs, different materials, different sizes, you have to have an idea about all of these, and only then you will land on the right one.
We have mentioned all of the factors that one should know before picking a saw blade. Take a look!
Types 
As we mentioned above, there are different kinds of saw blades. And you need to be aware of all the types so that you can reach a suitable one. We have mentioned each type broadly so that everyone understands properly.
General Purpose
As the name implies, it is blade suitable most kind of cutting and that is why it is called a combination blade as well. It is best for the beginner's DIYers. Plus, if you are looking for a blade for wood cutting, this would a good blade for the task.
Ripping
It is a blade that comes with few large teeth, they are spaced far from each other and feature gullets that work for scooping off the wood chips between the cutting process. Ripping blades take off materials pretty fast and are best for using on wood grains. However, this blade doesn't provide precise cutting and that is why it is suitable for cutting wood grain where precision isn't required.
Crosscutting
Well this very blade is a little scary since it comes with large teeth and they are densely spaced. Like ripping blade, crosscutting blades are also suitable for grain cutting but the only difference it crosscutting blade offers precision which ripping blade doesn't offer. This blade features small gullet as well which takes off dust.
Finishing blades
It is the blade that features the maximum number of teeth, they have around 90 to 100 teeth. And these blades are best for removing edges.
Metal cutting blade
As the name suggests, if you want to cut metal, this is the blade you should opt for. They don't come with any teeth but a solid edge. Some metal cutting blades come with the industrial diamond on the edge and some come with abrasive, it varies to the blade to blade.
Masonry cutting blade
People who are looking for a blade to cut through things like cinder blocks, concrete, bricks, or other masonries, this blade is for them. Cutting with this blade doesn't require any coolant, however, people still add water since that helps in washing dust.
Size 
It is an extremely important factor that you should think about right before making a purchase decision. You have to pick a blade that you can install on your saw machine, so sizes need to match perfectly. You cannot attach a large blade onto a small saw machine and vice versa.
If you don't want to get into this mess, know the size of your saw machine. In that case, the manual came with the purchase might help, or contact the customer service of the brand. Or ask someone who is using the same model for a long time.
To give you little idea, 10 – 12 inches is the size of a table saw, 14-inches are metal saws, and handheld circular saws are around 7- 10 inches. These sizes might not be accurate, you have to ensure the size from anywhere else. One more thing you can do is, if you are buying a blade from a physical store then they might help you with the right size.
Reliability 
The blade you pick needs to be reliable. There are a lot of blades that become of no use after a few sessions of use, you wouldn't want to pick anything like that. So how do you pick the good one? Well, check the material. There are different materials that are used in making saw blades. However, go for the tungsten carbide material, they are well-known for their durability and strength.
There is another way, go for top-notch brands such as DeWalt, Porter-cable, etc. They are well-reputed brand and their quality is always on point. And if in any case, you get a low-quality one, their customer service is there, you can replace or sort the issue out in your favor.
Coating 
If you want the blade you pick to last long, then make sure that comes with coating. What coating does is, it adds an external layer of protection to the blade. So when it cuts through materials the friction goes over the coating, not on the actual blade. So it remains safe. Plus, the coating makes the blade corrosion-resistant as well.
Teeth
Different kinds of blades come with different amounts of teeth. But for plywood cutting around 60 blades should be fine. That should be enough to give a smooth, fast, and accurate cutting.
Price
Most beginners make a mistake in this. People often go after the price. They go mad if the price is cheap, quality becomes secondary. Do not do that. Some blades are very cheaply priced, because of their cheap quality. They will become useless within a few use and you will end up spending more money in the long run.
Look for quality, even if it is expensive. Because that is what will give you a smooth and satisfying cutting experience.
Frequently Asked Questions
How do you cut plywood with a circular saw without splintering?
When you are cutting a thin layer of plywood, splinter and chip is a common thing. And it makes the plywood sheet look bad. However, you can get rid of that if follow a few things.
Ensure you are picking the right blade for cutting, the wrong blade will cause splinter for sure. And the blade you pick needs to be very sharp. Attach a masking tape strip to the cut line all the way, from the top to the bottom. The saw needs to run at a good speed, the faster the speed the fewer chances of the splinter. So cut through the masking tape, you will see no splinter.
Can you cut plywood with a circular saw?
Yes, you can cut plywood with a circular saw. Making miter cut, bevel cut, compound angle cut, square cut, you can make different kinds of cuts with a circular saw in plywood.
 Are more teeth on a circular saw blade better?
The denser the teeth the smoother cut the blade can make. So if the smoothness of the cut matters to you, then it's better.
Why does my circular saw not cut straight?
If you find it hard to cut straight then check the material you are cutting. You might be trying to make a straight cut on the wrong material. For example, if you are putting on a hard and heavy wood piece, then it might be hard. Since it is tough to cut. Another thing is the blade make sure to choose the right blade. It needs to be sharp enough. And the saw needs to be fast cutting.
How do I choose a circular saw blade?
There are a bunch of factors that you will need to keep in mind before purchasing a circular saw blade. And the most important one is to choose the type. There are different types of circular saw blades suitable for different needs such as general blade, crosscut blade, rip blade, etc. So choose a blade that will get your job done.
Conclusion
If you were looking for the best circular saw blade for plywood, you must have found that by now. We have reviewed all of these blades thoroughly so that you pick by knowing every good and bad of it. Hope this helps.