If you have drilled into the wood, composite materials, or soft metals, it is highly unlikely that you haven't used or heard of Jobber drill bits. But do you know what is a Jobber drill bit?
Going through the full article, you would know lots of important facts about this special type of bit. For example, where you should use it, what the advantages are, and the right size for your tasks.
Also, knowing all those facts about the bit will help you decide the appropriate tool for a specific task. I have included several products at the end to save your time finding good-quality and reliable ones. Let's get started.
What is a Jobber Drill Bit?
The meaning of the word 'Jobber' is not even close to what a Jobber drill bit means. This type of bit is not categorized in terms of material difference. What makes them unique from others is the length.
The flute length of such bits is approximately 10 times its diameter. For example, if a 0.25" drill bit has a flute length of 2.5", you can call it a Jobber length drill bit.
Now, what does flute mean?
The flute of a bit is the twisted part that does the drilling.
Let's get back to the main discussion. Regarding the condition to be Jobber length, the diameter to length ratio varies. There are no hard and fast rules to that.
Different ratios can make the jobber length. But it doesn't mean that any length would fall in this category. The proof is in the ANSI/ASME B94.11M-1993 standards. Unfortunately, I can't provide a link to the standard's specification because it is not free.
Don't worry because I am going to give you an overview of the standard. According to the Machinery's Handbook (26th edition), a quarter-inch drill can have a ratio of 11:1. Again, a #10 drill bit may have 12.4:1, or a #60 bit has a 16.7:1 ratio.
Do they have different diameters than other types?
No, the variation is only in the lengths and not in the diameters. So, making decisions based on a regular drill bit size chart won't be a problem. However, you can check out this Jobber drill bit size chart for the peace of your mind.
What is a Jobber Drill Bit Used For?
Based on the build material of a Jobber drill bit, its application is determined. However, one general rule is that one must use them for softer materials. For example, wood, composite, and soft metals are suitable to drill with these bits.
Jobber length is the most popular and general-purpose bit size among professionals.
Why Should You Use Jobber Drill Bits?
For several reasons, professionals, as well as hobbyists, prefer these Jobber bits' longer flute designs. The main purpose is to drill deeper than usual ones. Apart from that, more speed, more durability, and better accuracy are also the characteristics of these bits. Overall, it is great for general uses.
What are the Best Jobber Length Drill Bit Sets?
If you haven't got a set of Jobber bits, you can check out the following products. I have gone through the features and specs of several brands and found these listings to be the most reliable ones.
1. Drill America – DWD29J-CO-PC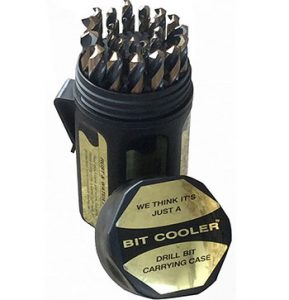 It is a set of 29 bits with diameters ranging from 1/16 inches to 1/2 inches. You can find almost all necessary sizes as the difference between two bits is only 1/64". Cobalt steel construction with a gold oxide finish gives them durability and ensures wear resistance.
Its self-centering design has a 135-degree split point that doesn't need a pilot hole. The bits come nicely arranged in a round drill case which can be stored in a compact space.
Also, it gets easily hanged on the belt for quick access to the bits while working. Those are the reasons I like this Jobber drill bit set the most.
2. Chicago Latrobe 57850 550 Series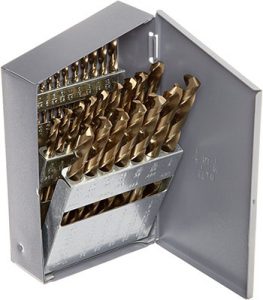 This bit set is expensive than the previous one with a set of durable 29 pieces. The features and specifications are the same.
But the higher price tag is probably because of the extra thick web that ensures increased strength and rigidity. It comes with a durable metal case for safe storage of the bits.
3. COMOWARE Cobalt Drill Bit Set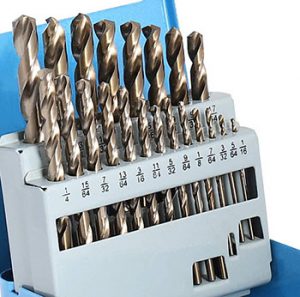 I have listed this one from Comoware due to an affordable price tag and different set options. Going to the link, you would see a 21-piece set but other options are ranging from 10 pieces to 115 pieces. Depending on your job criteria, you can purchase a suitable package.
The bits don't have a gold oxide finish but they are made of M35 high-speed steel which is capable of drilling through stainless steel, cast iron, high-temperature alloy, titanium alloy, hard plastics woods, and softer materials.
4. Walter Surface Technologies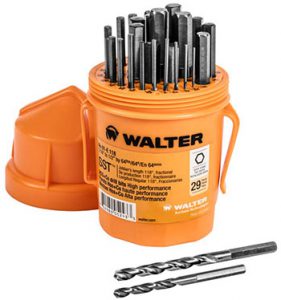 With the same type of drill bit case as the first product, Walter Surface Technologies is offering a 29-piece toolset. It is convenient for construction workers as the hanging capability makes it quickly accessible wherever you go.
The bits are made of high-speed steel with cobalt which ensures incredible durability. Despite those good features, I don't like it that much because there is no wear-resistant coating. So, drilling through metal objects can decrease its service life.
5. Drill Hulk Cobalt Steel M35
Lastly, Drill Hulk is offering Jobber length twist drill bits at a competitive price. You may think that this is the best budget-friendly model but it is not true.
Because the set offers only 12 pieces and the bits are made of HSS with 5% cobalt. As the manufacturer claims to be using M35 material, you can use the bits to drill through hard surfaces also.
Conclusion
I hope that you have got a complete answer to the question, what is a Jobber drill bit? Due to a slightly longer flute length than normal bits, these are categorized and named differently.
Don't forget to check out the products even if you have the necessary bits. Because you might not have a good quality product and can't take full advantage of these bits. Are you going to try out one from the list?