When you ask for an impact drill, the salesman might get confused with the impact drivers. Drills are for making holes and impact drivers are for tightening screws or fasteners. So, it is safe to assume that you have meant a drill that can also drive screws.
Well, if that is the case, you should read the full article. Here, you will get an answer to the question what is an impact drill used for? I have also included some product recommendations and this particular type of tool's mechanism.
In the end, your confusion about the drill and driver will be gone. You would know whether it is the right tool for your job. So, don't waste any more time, and let's get started right away.
What is an Impact Drill?
If you search for an impact drill, you may get disappointed as there is no such thing. However, manufacturers include this term while listing their cordless drills in Amazon. Because these less powerful ones can give you the advantage of both drilling and driving screws.
The torque and speed both are limited in these drills. As a result, it can perform both tasks without damaging the bits or workpieces. One key difference between a drill and a driver is the head design.
Both are cordless but the drills have keyless chucks that need to be tightened, and drivers have a hole that helps quick attaching and releasing. Now, let's talk about the uses of our chosen tool type.
What Is An Impact Drill Used For?
There are lots of uses of this highly efficient tool. Finding out new and creative ways to use it depends on your imagination. Let's see some common uses of an impact drill drier below.
For Drilling Little Holes
The main use of this tool is to make little or medium-sized holes. These drills don't come with lots of power to drill through hard workpieces. Also, the absence of hammer mode is responsible for its limited application.
For Making Pilot Holes
Pilot holes are small and initial marks that ensure accurate drilling or driving screws. You have probably experienced a slippery bit of your head during working on tough materials.
In such situations, use a cordless drill to make the initial hole and drive the heavy-duty tool afterward. This way, you will be impressed with your accuracy level. Also, it prevents wood from getting cracked while driving large screws.
For Using Instead of A Screwdriver
Manual or automatic screwdrivers are different tools with specific features. However, you can use your drill driver to drive a screw and tighten fasteners. The keyless chuck can grip any head for the job tightly. Also, using its reverse mode, you can remove screws easily.
For Operating Hole Saws
If you think that it is not powerful enough to use hole saws, you will be wrong. Check out the specs and features of DEWALT 20V MAX, and you would understand the things it can do. For making holes for doorknobs, sink faucets, drains and other round holes, you can rely on it.
For Using in Drywall Installation
Working with a corded tool in a drywall installation site is tough. Because you need to move from one place to another continuously. With the help of a lightweight and compact drill driver, you can overcome the issues. Check out WORKSITE 8V, which is perfect for the requirements.
For Mixing Paint, Grout, and Concrete
Another very useful application of this tool is that you can mix paint, grout, or concrete with it. Attaching Edward Tools Paint and Mud Mixer to it, the mixing won't be a matter of time or effort anymore. Also, it can ensure even mixing of the colors for a perfect finish.
For Sanding Uneven Surfaces
Sanding is a whole new segment and requires lots of different grit papers and tools. But for small tasks, you can rely on your cordless impact drill. With the attachments, it is possible to sand different surfaces quickly and easily.
For Some Quick Grinding
Cutting metals and removing rust are also possible with the appropriate attachments for drills.
For Twisting Wires
Besides driving screws and fasteners, another popular side task of this tool is twisting wires. Especially, twisting steel cables can be of great help.
I recommend you to use a good-quality and powerful model from a reputed brand to unlock the tool's full potential. You can either order one from my recommendation below or find a suitable one for you. However, an expert's suggestion always saves time and energy.
What are some of the Best Impact Drills?
While trying to find a suitable impact drill, you may see sets of 2 tools most of the time. It can be annoying for those who don't require the impact driver. So, I have done the research and listed 3 of the best impact cordless drills for your consideration.
1. >DEWALT 20V MAX – Best Overall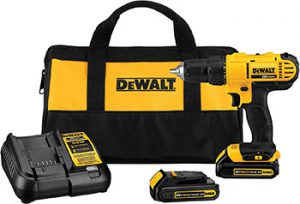 Because of its powerful 300 watts motor, great battery capacity, ergonomic handle, and compact design, I like this one over the other. The proof of its performance in real life is thousands of feedback which you can see by clicking on the link here.
The keyless chuck is the quickest way to change the bit. On top of the impact drill, you can see a switch that sets the maximum speed either at 450 RPM or 1500 RPM. All I can say is that you can rely on this affordable model from Dewalt.
2. BLACK+DECKER 20V MAX – Best Heavy-Duty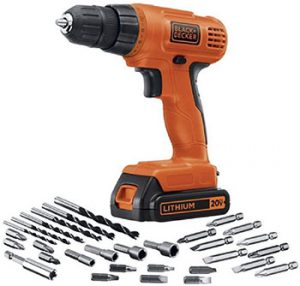 If your budget is even less than the previous one, you can seriously consider this one from the famous Black + Decker. The price consideration takes the toll on its speed which limits to only 750 RPM. However, you won't face lots of issues drilling through softer metal, wood, or plastic.
Apart from the downside, you will love the fact that this impact drill comes with a 30-piece accessory set. As a result, you will be able to start working right away without having to find or order the necessary bits. Its 24-position clutch gives the users better control over the drilling task.
3. WORKSITE 8V – Best Lightweight
Lastly, I have an even more budget-friendly model from Worksite. Due to its LED work light, convenient bit storage on the bottom-back, lightweight and compact design, good grip on the handle, magnetic wristband, I had to recommend it.
However, some downsides include fewer torque settings and a speed limitation of 550 RPM. If you have small or medium tasks and not any heavy-duty requirements, you can consider it. The tool's 1300 mA Li-ion battery can provide a good backup time. Moreover, the package comes with 13 necessary accessories for the most common applications.
Conclusion
Have you got a clear answer to the question, what is an impact drill used for? I hope that the article has given you a clear idea about the different uses of the tool.
I love making DIY projects using this cordless piece of wonder as it can perform lots of tasks and eliminates the necessity of buying separate tools. What are you going to use it for? Let me know in the comments.