If you are searching for drilling into concrete or hard materials but don't know which tool would be better for your DIY project, then let me tell you that a hammer drill can be a blessing for those applications.
A regular drill can make a hole or drive screws but for drilling large holes or making a hole in masonry or drilling into old concrete, you need to change the regular one and step up to hammer drill.
As this product helps you a lot you may have question then how does a hammer dill work? Scroll down, I have elaborated the whole procedure of hammer drilling.
A Hammer Drill works like this
A hammer drill can do the most difficult DIY project with its rotary motion and a pulsating hammering action that a normal drill cannot penetrate. As this tool is quite different from other drills, so let's see how it performs the work and makes the project easier.
Hammer drill comes in two varieties – one is a regular hammer which can be corded or cordless and another one is a rotary hammer. So, for your convenience here I will discuss how the two types of hammering mechanisms work.
How Does A Cordless Hammer Drill Work?
A cordless hammer drill is driven by an electric motor and allows versatility in application. The working procedures of the cordless drill are:
A cordless hammer drill works through percussion which interacts a series of gear with each other and produces a rapid hammering movement. And this combined action of the gears rotates the drill bit along with hammer the drill bit forward.
It has two mechanisms to ensure the optimum power that are rotational and impact mechanism. Screwing or loosening screws need low speed; for this, it has adjustable rotational speed.  On contrary, due to the impact mechanism, the drill acts at high speed and you can use this mode for drilling or impact drilling into hard materials. Moreover, when you activate the impact function, the drill bit moves a thousand times per minute along the longitudinal axis.
Then, it gets powered by a lithium-ion battery which gives flexibility and mobility to the device and can penetrate wood or hard materials.
How Does a Rotary Hammer Drill Work?
Rotary Hammer Drill is way more powerful than the regular type Hammer, so have a look into how does it work:
First of all, the rotary hammer uses an Electro-Pneumatic driving mechanism which works through the mixture of electricity and pressurized air.
Then, it creates pounding action by compressing air when driven forward using a piston and in terms of impact action rotary hammer outclasses the other drills.
It works in three different modes like drilling, hammer drilling, and only hammering. So, for light demolition work or making holes in a hard material like concrete, masonry, hard soil, etc. what mode would you need you can select according to your application.
This tool has a spring-loaded chuck so it holds an SDS-Plus bit which grooves on the shank and is locked securely into the chuck.
When Should I Use a Hammer Drill?
When you need to work w
ith hard material like concrete, bricks, stone, or hard soil, a hammer drill is perfect for those purposes. As a hammer drill is found in the corded, cordless, or rotary option, you can choose any of the products according to your job.
Both the regular hammer or rotary hammer is excellent in drilling masonry or concrete but when you need faster and more power you can step up to the rotary option. Let me clear the doubt, simply when you do smaller jobs, use corded/cordless hammer; but when you need to chew through thicker walls, you can select ¾-in. chuck rotary hammer drill.
How Is A Hammer Drill Different From A Regular Drill?
Drill:
Drills come with rotating cutting tips for making holes in wood, metal, ceramics or plastics. It gets powered by electricity or compressed air and supplies rotary action to drive the drill bit in its chuck. Drills are great for both drilling holes and driving screws and show ultimate performance in woodwork.
Hammer Drill:
A hammer drill employs a rotary action with a hammering effect that can be supplemented by a series of fast and hard impacts to the back of the chuck and it results in loud drilling noise. This tool gives extra force which enables a masonry drill bit to penetrate through hard materials.
Drills Vs Hammer Drills: The Difference
Based on the above info you may already find out that a drill is suitable for soft material whereas a hammer drill applies to hammer effect for making holes through heavy materials like bricks and masonry. Then, the drill can only work by rotating action but hammer drill shows considerably versatile action like it can drill, drill with the hammer, and also do only hammering.
So, you can select the mode according to the project you are doing. Moreover, having more features in a hammer drill, it is heavy and bulky and also it is quite expensive than the drill.
What are the Best Hammer Drills?
1. ENEACRO 1-1/4 Inch SDS-Plus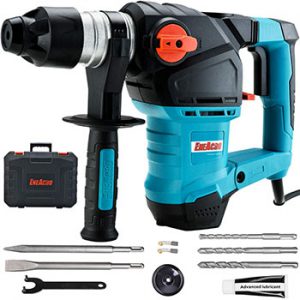 Powerful 13Amp industry motor with heat dissipation design can complete heavy-duty concrete or metalworking project. Moreover, it comes with four functioning capabilities, safety clutch protection, and an anti-liberation system along with fantastic drilling capacity for concrete 1-1/4in and for metal ½ inch.
2. TACKLIFE Corded Drill 1/2 Inch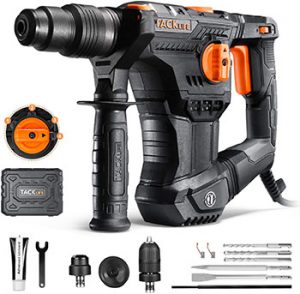 This product features a powerful 6Amp motor with high speed, 360° rotating auxiliary handle. And two hammering options can be met in one tool which saves energy and provides impact force. It has a variable speed trigger for setting any speed along the tool offers forward and reverse switch.
3. SKIL 6445-04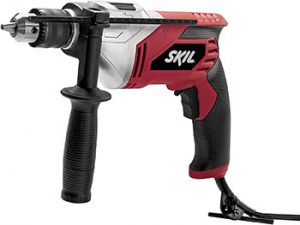 This brand provides a 7.0 Amp motor for performing tough jobs and 1/2 in. keyed chuck to accept large diameter bits. It has a side assist handle for controlled and accurate drilling, also has a variable speed trigger. Skill 6৪45 is lightweight and easy to maneuver.
4. DEWALT 20V MAX XR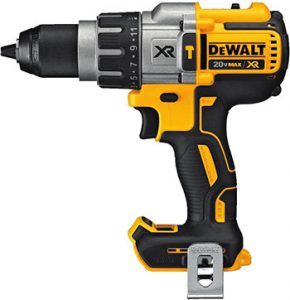 This compact, lightweight tool delivers up to 57 percent run time with high-speed transmission. It also has two-speed settings and 3 modes of LED lights with 20 minutes of shutoff function. DEWALT's ergonomic comfort grip handle provides ideal balance and tool control.
5. Makita HR2475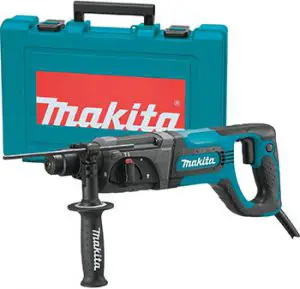 This corded electric drill has a 7 Amp motor and torque-limiting clutch to prevent gear damage. Makita minimizes overlapping bit impacts and results in 50% faster drilling and comes with 3 mode operation. Its 40-bit angle settings allow the bit to be set in multiple chisel positions.
FAQs
Can a hammer drill be used as a regular drill?
Yes, a hammer drill has three different settings rotation only, hammering with rotation and hammering only. A rotation option is normally the drilling option so, a hammer drill can be used as a regular drill.
Can you use a hammer drill as a screwdriver?
Though it is not the right choice for driving screws with a hammer drill, you can use a bit like a screwdriver by switching the hammer mode then again you need to be careful whether the screw can take the torque or not.
Will a hammer drill break up concrete?
Hammer drill is perfect for light masonry, however, as it doesn't usually have a chiseling function so breaking up concrete will not be suitable for it. But some hammer drill comes with chiseling option that can break up concrete.
Conclusion
We have tried to cover up all necessary information about a hammer drill, hopefully, you now know the usage of hammer drill and how does the mechanism works.  We have also shown some hammer products which you can browse through and you may get your necessary tool among them.
Can You Drill A Hole In A Ceramic Pot?