If you have shied away at going in for plasma cutters and tried doing things with your bare hands, you probably must have got nothing much! But, something worth trying is the Lotos LT3200 Plasma Cutter. Let the machine do the job and see the results for yourself!
It is quite an interesting machine that is suitable for the odd DIY jobs that you undertake at home. The machine does seem to be a good quality cutter, cutting different types of metals like alloy steel, stainless steel, and other conductive metals.
Need a Plasma Cutter? Read our article, best plasma cutter 
Lotos Plasma Cutter LT3200 Review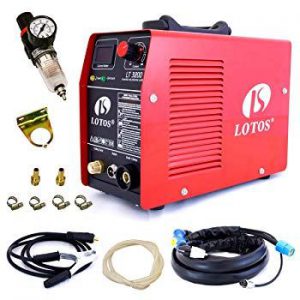 Key Features
The Lotos LT3200 has been created for some light-cutting projects. It is very compact and lightweight. It is a powerful machine that cuts through 8mm of metal quite easily. This is 32amps, digital inverter plasma cutter, with a powerful fan cooling mechanism.
Some of the key attributes are:
It is a portable and compact plasma cutter weighing just 17.6 pounds.
It is perfect for light cutting projects and highly suitable for cutting stainless steel, mild steel, alloy steel, and even copper and aluminum metals.
It has a good fan cooling system.
It has a pilot arc which makes it an efficient plasma cutter.
The technical specifications of the Lotos LT3200 Plasma Cutter are:
Machine Weight – 17.6 pounds
Machine Size – 11.6 x 9 x 6 inches
Maximum Current – 32.00 Amps
Mount Type – Plug-in
Power Source Type – Electric (AC)
Input Voltage – 220volts with dual-frequency – 50/60Hz
A material used – Plastic
Features that set apart the Lotos LT3200 Plasma Cutter from the rest of the cutters
Any hobbyist or DIY enthusiast looks for something easy, lightweight and portable, and cost-effective. And it is this feature that sets apart the Lotos LT3200. Very efficient in its cuts, it delivers good value.
Due to the pilot arc feature, the consumable life of this plasma cutter is prolonged. It is useful to cut through highly rusted metals. The pilot arc is also very useful while cutting metal mesh wires or slots. Without starting and stopping the plasma cutter, you can finish the cutting job with supreme ease. The pilot arc keeps the torch lit throughout, as it allows the current to flow from the electrode to the tip without any contact with the metal being cut.
The other feature that makes it stand apart is the good range of materials that it can cut through. Mild steel, aluminum, copper, alloy steel, stainless steel are some of the conductive materials that can be cut through with ease.
As it is designed for light usage, it can pretty much cut through an 8mm metal with 12mm severance thickness.
If you are on the lookout for such kind of plasma cutter, then you should consider buying the Lotos LT3200 Plasma Cutter. Some of its features are unique for a plasma cutter in this category. This might be a very good idea if you love to do the odd repair jobs at home, that involve cutting through metal.
Build Quality
The Lotos LT3200 Plasma Cutter is made of plastic and the entire machine just weighs 17.6 pounds. This makes it lightweight and easy to carry. The handle that comes along with the machine is nice and sturdy. Above all, the handle is very practical.
Though small in size, this plasma cutter packs the required punch in this small machine. It is compact and this probably is the most attractive aspect of this cutter.
Portability
Due to its lightweight, the Lotos LT3200 Plasma Cutter is easily portable. It can be taken outside to any place that has electricity, and you can rest assured that it will do what it does best – cut metal! It is also easy to lift into or out of your vehicle, due to its lower weight.
The other plasma cutters are heavier and bulkier, making it difficult to move from one place to the other. For do-it-yourself projects and other small cutting jobs, this plasma cutter suffices, unlike the bulkier and heavy-duty professional-looking cutters.
Ease of use
On the aspect of ease of use, this plasma cutter ranks very high. As it has the good build quality and portability factors, the ease of use is very high.
Attaching the components that are required to start the machine is practically simple, without much work involved.
Digital Inverter
The LotosLT3200 Plasma Cutter has a digital inverter. The greatest advantage is that, even when there is no power supply available, you can still run your machine.
So, if you have those one-off cutting jobs at remote sites, you can rely on this plasma cutter. Though not very powerful, this machine manages to cut without much distortion.
The digital inverter is a feature that adds to the functionality of the plasma cutter.
Input Voltage and Duty Cycle
The input voltage of the LotosLT3200 Plasma Cutter is 220volts. This means that this plasma cutter can handle higher voltages.
The duty cycle is another important feature that affects the cutting ability of the plasma cutter. A longer duty cycle is considered better for longer shifts. The duty cycle is nothing but the amount of time taken to cut the metal at given amperage in a given time frame. Temperature and humidity also affect the duty cycle.
This machine comes with a duty cycle percentage of 30% at 32Amps, 220V, at an ambient temperature of 104°F or 40°C.
Cutting Thickness
The cutting thickness of a plasma cutter is again an important aspect that affects the efficiency of a plasma cutter. Technically, this is a powerful plasma cutter with a cut of 8mm metal with 12mm severance thickness.
The quality of the cut of this plasma cutter is great with top edge rounding and this could satisfy a majority of the amateur welders or DIY enthusiasts and craftsmen.
With an ability to cut through a variety of metals, this plasma cutter, is highly suitable for most light-cutting jobs. Some of the materials that the Lotos LT3200 Plasma Cutter can cut through are stainless steel, aluminum, alloy steel, and copper.
Torch and Arc
The torch of a plasma cutter is again a vital aspect. There are many small components that make up the torch. Hence maintaining these components is important to prolong the life of the torch. The pilot arc feature, as stated above prolongs the life of the plasma cutter.
The Lotos LT3200 Plasma Cutter has a pilot arc feature, which prevents direct contact with the material being cut. The torch is kept lit throughout, allowing the current to flow from the electrode to the tip. All these features translate to superior ease of use.
When you have to cut through old rusty or painted metal, this plasma cutter would be a highly suitable option. Unlike other tools which do not deal well with painted surfaces, the LotosLT3200 Plasma Cutter does a clean job. The trigger of the torch can be used by both the finger and thumb positions.
Cooling
Any good plasma cutter should have a nice cooling technology feature that works well with the machine. This is just to prevent the unit from heating up. Having a good cooling feature is an essential requirement in a plasma cutter. This prevents any damage to the machine, making it more durable.
The cooling fan which is present in the Lotos LT3200 Plasma Cutter helps keep the unit from overheating. This also makes it possible for prolonged use, but a reasonable period.
Apart from the above features, the Lotos LT3200 Plasma Cutter comes with other accessories such as hose, consumables, ground clamp, air filter, and regulator, and other connections. The air regulator should have a Gas Inlet Flow Rate / Pressure of 3.6scfm @ 65psi, for optimum functionality. And the gas supply should be clean, dry, oil-free air.
How does the Lotos LT3200 Plasma Cutter compare with the other plasma cutters?
Many other products compete with the Lotos LT3200 Plasma Cutter. Here is a look at its competition
Lotos LTP 5500D Plasma Cutter92
1. Lotos LT5000D Plasma Cutter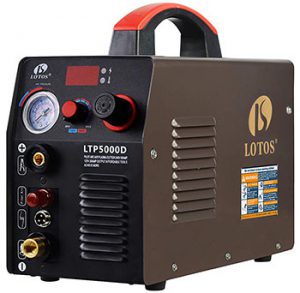 This is a heavier, TIG-welding type of plasma cutter when compared to the Lotos LT3200 Plasma Cutter. Made up of metal, this version has slightly advanced features.
So, if you have some heavy-duty cutting to do, the Lotos LT5000D Plasma Cutter could be your ideal choice. With higher amperage of 50 amps, this can work on both 110 volts and 220volts. This has a PAPST advanced German cooling system. The cutting thickness is 1/2″ and severance of 3/4″. However, this plasma cutter does not have a pilot arc.
2. Lotos LTP5500D 50AmpPlasma Cutter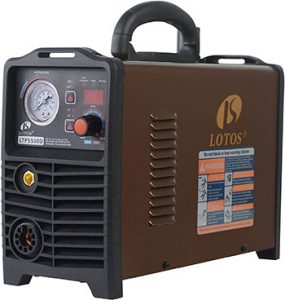 A few pounds heavier than the Lotos LT3200 Plasma Cutter, this is a portable plasma cutter with PAPST Advanced German Cooling System.
This plasma cutter stands out for its ease of use, cut quality, and affordability. This could be an ideal choice for light businesses and DIY hobbyists; it could be a perfect match. With increased power, this plasma cutter might be a good value for money. However, a drawback with the Lotos LTP5000D 50Amp Plasma Cutter is the absence of a trigger guard for the torch.
3. The Ramsond Cut 50DY 50Amp plasma cutter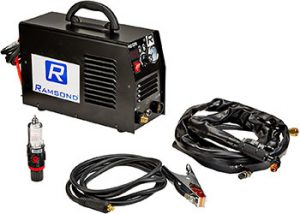 The Ramsond Cut 50DY 50Amp plasma cutter is again a great portable unit. Almost the same weight as the Lotos LT3200 Plasma Cutter, this one scores heavily on its size.
The Ramsond Cut 50DY 50Amp Plasma Cutter has an impressive max cut limit of 3/4″. The hose length is slightly bigger than the Lotos LT 3200 plasma cutter. The Ramsond Cut 50amp Plasma Cutter has other impressive features like operability in two voltage settings – 110V and 220Vand two operable frequencies (50 and 60 Hz), as well as inverter technology.
This machine gives a cleaner cut with uniform and smooth edges. It can cut through materials like stainless steel, alloy steel, copper, brass, carbon steel, aluminum plate, etc.
If you are a beginner hobbyist, then you can consider this unit for its good features.
4. Hobart Airforce plasma cutter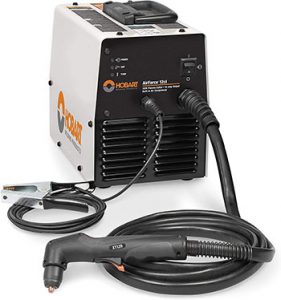 The Hobart Airforce 12i Plasma Cutter has a built-in air compressor. This is by far, an outstanding feature of this product. It is again a truly compact and portable system. At 27 pounds, this is almost ten pounds heavier than the Lotos LT3200 Plasma Cutter.
But due to the built-in compressor, the Hobart Airforce 12i Plasma Cutter has optimum cutting conditions. If you are looking for something long-term and reliable, then this machine is something that you should think about. With the built-in LED alerts, you can also see the readings of the temperature, power, and torch readiness.
Whenever there is a temperature increase, the unit slows down due to its duty cycle, with no damage to the internal components. Overall, it is an impressive product. Though arguably a high-quality machine, this is not meant for thicker metals.
PROS
Exceeds expectations in terms of the final result
Simple and easy to use
Compact cutter suitable for light cutting
Very affordable
Portable
Fully automated
Light in weight
CONS
Cannot cut thick metals
A tendency to overheat
Not meant for heavy-duty cutting
Short ground cable
Final Words
If you want a versatile and optimum performing plasma cutter, for the do-it-yourself jobs at home, then the Lotos LT3200 Plasma Cutter may be for enterprising hobbyists like you.